When purchasing or selling a home, the unknown defects that you can't easily see can be a big part of the risk.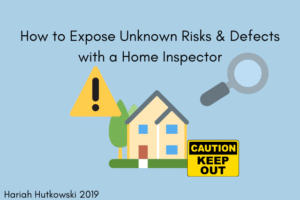 Hariah Hutkowski has found it easy to remove the risk by hiring an expert through a thorough home inspection. Most individuals don't get into the nuts and bolts of how a home works but just want the light to turn on when you flip a switch.  You also want the air conditioning to turn on during a heat wave and so forth.  An inspector's job is to find items that may be failing, soon to fail, unseen dangers, incorrectly installed items, and miscellaneous items only discovered with experience.  The goal is to know everything about a property before trying to sell or buy it. 
That knowledge is power for a safer home, cost estimates, and peace of mind.  For instance, during my recent sale of my own house there was only one problem: the unseen discovery of high radon levels.  I needed to install a radon abatement system and did so for peace of mind (and the buyer made it a condition of the sale).  I would have never thought about it.  You just don't know what you don't fully understand. Most folks don't know all the in's and out's of plumbing, air conditioning, roofing, deck safety, attics, electrical, sewer, foundations and general safety.  If you do, you're probably a home inspector of a really good contractor. Get it discovered!
Learn more about Hariah Hutkowski and his professional experience with home improvements and repairs on Social Career Builder: http://socialcareerbuilder.com/hariah-hutkowski/     
You can also follow along with his blog series on home inspections through his social media platforms:
https://www.scoop.it/u/hariah-hutkowski